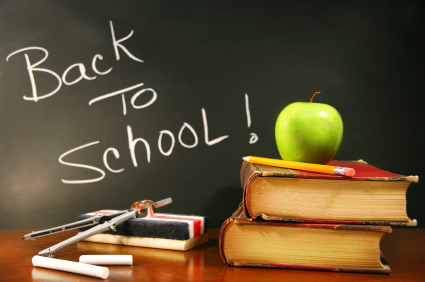 Everybody wants to look their best for school picture day. Your yearbook photo is something that people are going to remember you by, so you want to look your best in it. Today I am going to give you all some tips on how to avoid beauty blunders.
You don't want to look oily or washed out, so start off by washing your face to apply your makeup onto a clean surface. Next, apply a
primer
to help your makeup stay in place and conceal oil. Then, put on a thin layer of foundation using just your fingers, this gives you an even looking skin tone. After, take some more foundation and, using a
stippling brush
, build up the color as needed. Using a stippling brush is good because it gives you an airbrushed look. Then, take a concealer that is a few shades lighter than your natural skin tone and apply it under your eyes and smooth it out using your ring finger. Next, apply your concealer on any redness or blemishes, and again, blend out with your ring finger. After you apply your concealer, take a
large powder brush
and, using a matte finish powder, apply it all over your face. This will help control oil. Then, taking a matte blush and/or bronzer apply it to your cheeks using a
blush brush
. Next comes your eyes, apply an
eye shadow primer
, then taking a light copper/nude eye shadow pat in on your eye lid using a
flat shader brush
. Then, taking a
blending brush
apply a brown/copper color to your crease using windshield wiper motions. Then, using a
large fluff brush
, apply a highlight color to your brow bone. Next, take a
clean blending brush
and blend the edges of the brown color into where it meets the lid color, but don't blend the color together too much because it can cause the colors to look muddy. Remember that when you are having your pictures taken, colors can get washed out, so adding a little extra color is okay to do. Just don't go way overboard, you don't want to look like a clown! Next, apply a black eye liner on your upper lash line, you want a pretty thin line because you don't want to look like you have huge black circles around your eyes. next apply it to your lower lash line and your upper and lower water lines. This will make your eyes POP! Then, curl your lashes and add 2 coats of
mascara
to your upper lashes, and one to your lower lashes. For your lips apply a light pink lipstick without any shimmer or glitter in it, look for one with blue undertones to make your teeth appear whiter. Then, apply a thin layer of lip gloss to make your lips look more luscious. Remember to take
oil blotting sheets
in your bag to absorb any extra oil before your pictures and most importantly, SMILE! Good luck beauties!
Photo from HERE
Disclaimer: I am not affiliated with any of the brands mentioned. They have not sent me any products for consideration, all opinions are my own.